NIDABODER GALVA FLAT
The flat galva nidaborder is a 1.5 mm thick galvanized steel border specially designed for the delimitation of spaces of all kinds (gravel, sand, asphalt, lawn, etc.).
This batten is made of a steel alloy (iron and carbon) covered with a protective layer of zinc produced by electrolysis.
This border, with a flat profile and a length of 1.90m, is composed of a male junction, a female junction and preformed anchoring slides.
Depending on your needs and the desired rendering, the flat nidaborder galva is available in several heights: 80 mm, 100 mm, 120 mm, 150 mm.
Its integrated junction system makes the nidaborder galva plane an economical and aesthetic solution. This ingenious system combined with 39 cm anchoring piles make it an efficient and durable batten that perfectly fulfills its role of delimiting spaces. For a perfect result, the anchoring piles of this batten are also made of galvanized steel.
This flexible border allows the creation of a curve or angle by bending while maintaining its strength and durability. It can also be easily cut out for a tailor-made arrangement.
The Nidaborder galva has a rounded upper edge to limit the risk of cuts during construction and in use.
Whether used in exterior fittings or for certain public works applications, the Nidaborder galva easily adapts to site constraints. With a simple or reinforced anchoring, the flat borders in galvanized steel for exterior fittings allow all types of surfaces to be delimited.
CONDITIONING
Galva nidaborders are packaged in packs of 5 curbs (9.5 ml) and 15 shrink-wrapped anchor piles. Our flat galvanized borders are delivered to the pallet:
Height 80 mm - 40 packages / pallet
Height 100 mm - 35 packs / pallet
Height 120 mm - 30 packages / pallet
Height 150 mm - 30 packages / pallet
Product-related applications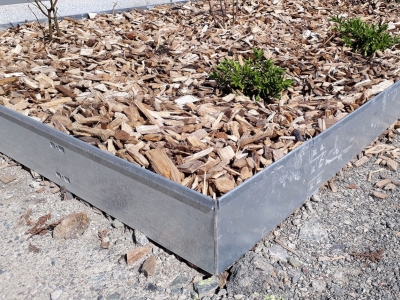 In addition to its range of products for landscaping, stabilizing or draining soils in landscaped areas, Nidaplast offers a wide choice of borders to individuals and professionals, available at [...]
Gravel car parks, rainwater storage basins, lightened road embankments or lightened composite parts for boat building, Nidaplast products can be found in numerous projects throughout the world.