NIDABORDER CORTEN
The nidaborder corten is a high-end border ideal for creating shape and delimiting spaces. Indeed, this batten is very appreciated by architects for its rusty steel appearance but without degradation.
This very contemporary thick steel border gives relief to the creations by combining aesthetics and durability.
The nidaborder Corten, 1.90m long and 3mm thick, is available in 3 heights: 100mm, 150mm and 200mm.
It is made of self-skating steel with superficial corrosion. This technique allows it to withstand extreme weather conditions.
Corten steel is a steel alloy to which chromium, copper and phosphorus are added. It is this protective layer that will greatly increase the edge's resistance to corrosion.
For a perfect finish, the junction system is integrated into the corten border and the anchor piles are also made of corten steel.
The Corten nidaborder is sold non-patinated. The oxidation period varies from 6 to 18 months after installation.
CONDITIONING
Corten nidaborders are packaged in packs of 5 borders (9.5 ml) and 15 shrink-wrapped anchor stakes. Our borders are delivered to the pallet:
Height 100 mm - 20 packages / pallet
Height 150 mm - 15 packages / pallet
Height 200 mm - 10 packages / pallet
Product-related applications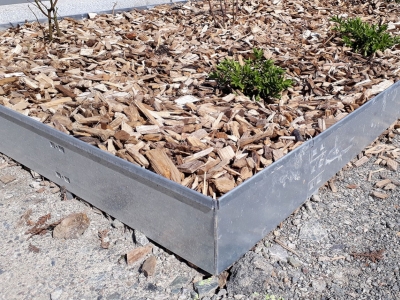 In addition to its range of products for landscaping, stabilizing or draining soils in landscaped areas, Nidaplast offers a wide choice of borders to individuals and professionals, available at [...]
Gravel car parks, rainwater storage basins, lightened road embankments or lightened composite parts for boat building, Nidaplast products can be found in numerous projects throughout the world.