NIDAGRASS
The nidagrass IG040 grass tiles are low density recycled polyethylene (LDPE) sheets to be sodded. They have been specially designed to guarantee a stable and drivable lawn surface, without the formation of ruts, hollows or puddles.
Dimensions: 500 x 500 mm / Thickness: 40 mm
Slab for turf reinforcement
Thanks to their high-quality raw material, nidagrass grass tiles remain strong and flexible over time, with ideal elongation and shrinkage constraints. The honeycomb structures of these slabs reinforce natural grass and grassed surfaces.
Nidagrass slabs are hollow core slabs that can withstand a load of up to 310 tonnes / m² and an axle load of up to 20 tonnes.
Nidagrass IG040 for optimal resistance
nidagrass IG040: dimensions 500x500 mm - thickness 40 mm - mass per unit area 1.40 kg / slab - 5.6 kg / m2
The walls of the slab are thick: from 3 to 5 mm. The size of the cells is approximately 70 mm in diameter.
The nidagrass IG040 slab has 3 fixing points per side, which makes it easy to attach the slabs to each other.
CONDITIONING :
A palette of nidagrass IG040 slabs contains 240 slabs, i.e. 60 m2.
Product-related applications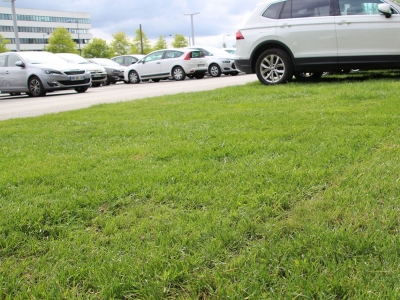 The nidagrass IG040 slabs are used for the realization of parking areas in shopping centers, public car parks, parking lots on grassy areas and on industrial sites ...