NIDAGRAVEL IG040
The nidagravel IG040 slab is ideal for stabilizing gravel in parking lots.
In HDPE, the nidagravel IG040 gravel stabilizer is both flexible and robust and suitable for heavy traffic. The thick walls of the 3 to 5 mm cells can be in contact with the wheels of a vehicle.
The nidagravel honeycomb slab avoids ruts, holes and puddles in parking lots and promotes the natural infiltration of rainwater into the ground. It is easy to install and perfect for holding gravel. In addition, these tiles are ultra light structures and can be transported easily.
It is recommended for the construction of high-traffic car parks such as those in shopping centers or supermarket or industrial car parks (logistics platform, storage areas, etc.)
The nidagravel IG040 slab is also used to create driveways, campsites, motorhome parking areas or fire brigade access routes.
Covered with gravel, the gravelled plate offers a compressive strength> 800T / m2.
The gravel stabilizer provides stability for pebbles on slopes: up to 15% slope.
The honeycomb slab contains 3 fasteners per side, which allows the plates to be assembled together.
Product-related applications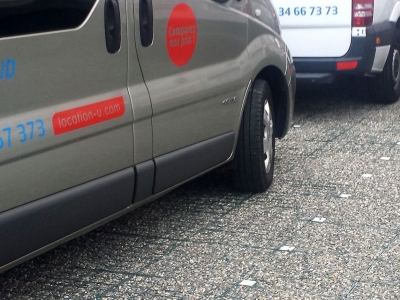 The nidagravel IG040 is ideal for stabilizing gravel in urban areas. The nidagravel IG040 gravel stabilizer slab is recommended for the construction of parking lots.
Gravel car parks, rainwater storage basins, lightened road embankments or lightened composite parts for boat building, Nidaplast products can be found in numerous projects throughout the world.