NIDAGREEN
Nidagreen honeycomb tiles are used as a support for synthetic coverings.
The diameter of the cells measures 8 mm and the honeycomb shape gives the plate a high compressive strength.
The nidagreen honeycomb supports are ideal for the realization of your outdoor arrangements on the ground, on a flat roof or on a balcony.
Nidagreen is an extruded polypropylene sheet, covered with a non-woven geotextile (PET 25 g / m2) on both sides. The honeycomb plate has been specially designed to be placed between the synthetic surface covering and the floor.
The honeycomb panel can then accommodate on its geotextile heat-welded to the plate, any type of permeable exterior covering: synthetic turf, damping castings, resin gravel, etc.
The large dimensions (2.88 m2) of the permeable polypropylene honeycomb panel allow very rapid installation, thus reducing installation time. The nidagreen is placed directly on the natural ground, without resorting to a concrete slab and serves as a stabilizer for the synthetic turf. The time savings compared to a concrete slab is considerable.
2 thicknesses are available:
thickness 21 mm - Water storage capacity: ≈ 18 liters / m²
1 pallet contains 110 nidagreen sheets, i.e. 316.8 m2
thickness 28 mm - Water storage capacity: ≈ 24 liters / m²
1 pallet contains 84 nidagreen sheets, i.e. 241.92 m2
The honeycomb structure not only gives it great compressive strength but also an important water storage capacity in the event of very heavy rains (95% vacuum). The water is stored temporarily in the alveoli and then gradually returns to the natural environment. A real small rainwater buffer tank, nidagreen leaves the coating dry, walkable and very stable.
The honeycomb slab also contributes to shock absorption and is 100% recyclable.
The nidagreen panel is used for the realization of:
artificial turf sports fields,
the creation of children's play areas with supports accommodating shock-absorbing floors,
floors in draining resin or gravel resin for the creation of terraces or walkways in resin
Product-related applications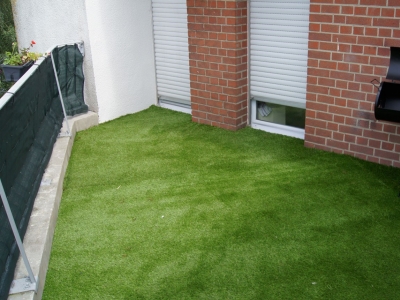 Need to cover your terrace or that of your balcony in an available green space without giving it additional maintenance?