Nidagravel 129-139
Nidagravel gravel stabilizers in recycled polypropylene. A 1.20 mx 0.80 m hollow core slab covers 0.96 m2. Available in different sizes, thicknesses and colors.
Small-sized gravel slabs suitable for gravel areas: gravel courtyard, pebble terraces, roads or driveways, gravel parking spaces, garage driveway, gravel cleanliness strip.
Slab with geotextile, 100% permeable
100% permeable honeycomb panels provided with a porous geotextile (45 g / m2) and heat-welded on the lower side. This geotextile prevents the gravel from escaping under the slabs, sinking into the ground and pushing the plates upward over time. The geotextile also serves as a canvas limiting the passage of plant roots.
In order to ensure perfect infiltration of rainwater and good filling of the cells, use a 6/10 or 8/15 type gravel. These hollow core slabs can be laid on a slope of up to 15% (filled with gravel).
Installation system without fixing
Place the nidagravel sheets edge to edge and cross-seamed on a base of suitable shape. Arrange the geotextile that protrudes from both sides of the plate, under the neighboring plate.
Mechanical anchoring of the hollow core slab is not necessary.
Gravel slab with high compressive strength: 300 to 400 T / m2
With nidagravel slabs each gravel coating becomes much more passable than in the past. A person's foot, shoe heels, or the wheel of a car no longer dig into them. With the nidagravel brand gravel stabilizer, walking, cycling, using a wheelchair or driving your child's stroller on gravel paths is no longer a problem.
The honeycomb structure of the nidagravel panels makes it possible to keep the gravel perfectly in place and allows the occasional passage of vehicles. Unsightly ruts in your driveway, annoying puddles and dangerous potholes are just a bad memory.
On the turning zones, it will be necessary to ensure that the gravel is not driven out and that the gravel covers the cells by 1 to 2 cm.
Product-related applications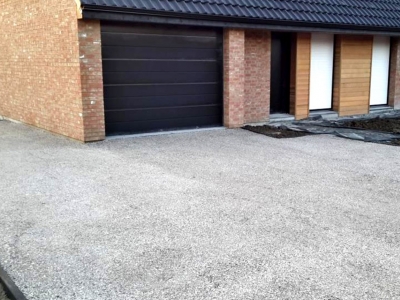 The nidagravel can be used to arrange driveways. The compressive strength of nidagravel honeycomb slabs allows the passage of light and occasional vehicles.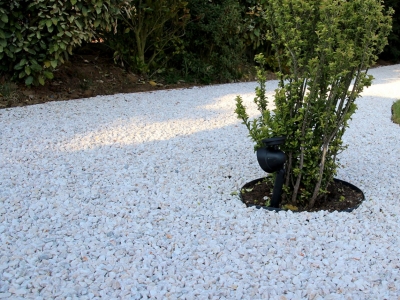 The realization of a courtyard or a terrace space in gravel is possible with the use of nidagravel plates. The slabs retain the permeability of the soil.