NIDAPLAST EP RANGE
The Nidaplast EP and Nidaflow EP rainwater management modules are polypropylene honeycomb blocks (2400 x 1200 mm) of the SUDS family (Sustainable Urban Drainage Scheme). 
These nidaplast structures, with a void rate of 95%, consist of polypropylene honeycombs (50 mm diameter cells).
Large size Sustainable Urban Drainage Scheme (SUDS)
They are used to create underground basin for rainwater storage or infiltration.
The honeycomb blocks and panels are available in 2 thicknesses to adjust the height of the structure as close as possible to the constraints of the site. 
These Nidaplast structures consist of 50 mm diameter cells and a 45g/sqm geotextile on both sides.
Nidaplast makes blocks with three different compressive strengths: 400 - 500 - 600 kPa. This product range allows applications for the temporary storage of rainwater below green area, below roads for lightweight and heavy vehicles (vertical compressive strength of up to 60 T / m²) allowing backfill heights of up to 4.30 m (for the EP600 block).
Rainwater storage modules are used for the construction of underground structures such as fire reserves, drainage trenches, infiltration or rainwater retention basins.
These are clean and self-cleaning systems, with no risk of clogging thanks to the diffuser drain located in the lower part of the structure.
The structure is hydrocurable and can be inspected by camera in the pipe.
The lightness of the product (from 35 to 50 kg / m3) makes easy and economical the implementation. The very good chemical resistance of polypropylene limits the risks of deterioration by accidental pollution.
Polypropylene blocks are non-polluting for groundwater.
They are insensitive to water level fluctuations and to load recovery in a humid environment.
The Nidaplast EP range, manufactured in France, got the CSTB technical certification.
A honeycomb panel with a thickness of 120 mm represents approximately 0.35 m3. A pallet contains 21 panels, or 7.25 m3.
A 520 mm thick honeycomb block represents 1.5 m3. A pallet contains 5 blocks, or 7.5 m3.
Product-related applications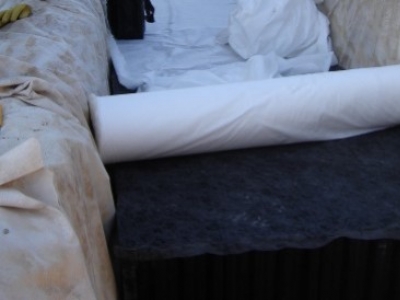 Drainage trench, percolation trench or infiltration trench, our alternative techniques to achieve them.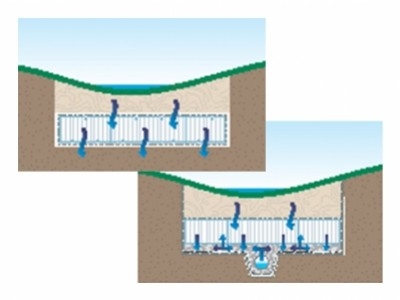 Our alternative solutions for the realization of rainwater infiltration valleys