NIDABORDER GALVA TP
The nidaborder galva TP5 is a 5 mm thick galvanized steel edging, dedicated to public works applications, made of a steel alloy (iron and carbon) covered with a protective layer of zinc produced by hot dipping.
This edge measures 2m in length and exists in 2 thicknesses: 150 mm and 200 mm.
The nidaborder galva TP5 responds to all the problems of the construction site markets, roads and VRD by its strong resistance. It is perfectly suited for making backfill, hot mix asphalt or deactivated concrete.
Its anchoring system consists of 2 W-shaped anchoring brackets (8 mm diameter rebar type) welded directly to the thick edge. This configuration ensures the durability and solidity of the whole.
The junctions are ensured by a system of steel fish plates and bolts ensuring a simple and precise connection for a durable realization.
The TP5, galvanized border is made in France and meets the quality standards EN10142 and tolerances EN10143.
CONDITIONING :
The nidaborder galva TP5 are supplied with connection accessories and bolts. Our galvanized steel borders are delivered on the pallet:
Height 100 mm - 50 pieces / pallet
Height 150 mm - 50 pieces / pallet
Product-related applications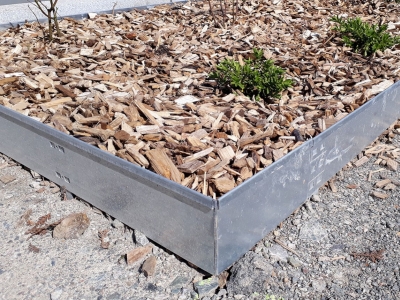 In addition to its range of products for landscaping, stabilizing or draining soils in landscaped areas, Nidaplast offers a wide choice of borders to individuals and professionals, available at [...]
Gravel car parks, rainwater storage basins, lightened road embankments or lightened composite parts for boat building, Nidaplast products can be found in numerous projects throughout the world.